Who can use this feature?

Admins, Managers, and Agents
The broad purpose of a Quality Score is to make a listing as accurate and comprehensive as possible for a property seeker on our platform.
Your listing's Quality Score positively affects your listing's ranking on the portal.
The Higher the Quality Score, the Higher the listing will be ranked on the Search Result Page.
What is covered?
1. Where can you see your Quality Score?
Once a listing is published to Property Finder, you can see the Quality Score elements.
If the Quality Score element is Green, that means that you have met the requirements, if it is highlighted in Red, you simply can hover over the element to see how to improve the Quality Score element.
In PF Expert > Properties, you can see the Quality Score in the Properties Table.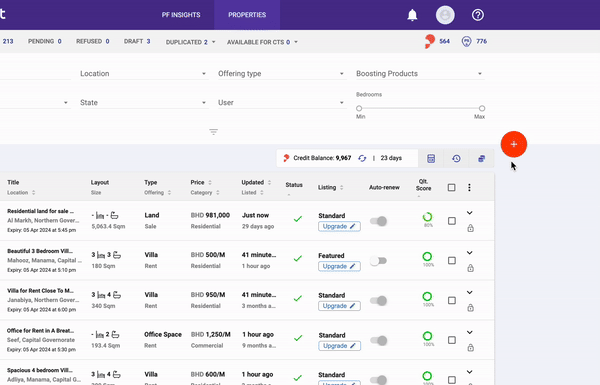 2. Title
Your listing's title should be between 30 and 50 characters that highlight the property's selling points and ensure it is relevant to your listing.
Each letter, empty space, or symbol is counted as 1 character.
For example: "2 Bedroom | Canal View | Flexible Payment" is 41 characters.
| | |
| --- | --- |
| | Note: Avoid including special characters in your title, such as "&", "@" and "#" |
3. Description
Your listing's Description must be between 750 and 2000 characters and should include more information about the property's amenities, location, and other points you want to highlight.
| | |
| --- | --- |
| | Note: Avoid including emojis (for example ➥ and🚨) in your description |
4. Images
Your listings need to include a certain number of images that are relevant and truly reflect the listed property in brightly lit, high-resolution pictures.
Below are the Image criteria for the Quality Score:
4.1 Number of Images
The required number of images depends on the type and number of bedrooms of a listed property.
Residential

Number of
Bedrooms
Minimum Number of
Images

Maximum

Number of
Images

Studio

4

30

1 Bedroom

5

30

2 Bedrooms

6

30

3 Bedrooms

8

30

4 Bedrooms

10

30

5+ Bedrooms

10

30

Commercial

Property
Type
Minimum Number of
Images

Maximum

Number of
Images

Bulk Rent

10

30

Business Center

10

30

Co-Working Space

5

30

Factory

5

30

Farm

5

30

Labor Camp

5

30

Land

5

30

Office Space

5

30

Retail

5

30

Shop

5

30

Showroom

5

30

Staff Accommodation

5

30

Warehouse

5

30

Whole Building

5

30

Compound

10

30

Full Floor

10

30

Half Floor

10

30

Hotel Apartment

5

30

Commercial Villa

10

30
4.2 Image Quality and Size
Images need to have a minimum resolution of 800 x 600 pixels (or a ratio between 1.3 and 1.8) to ensure they are displayed clearly on our portal.
To calculate the ratio of an image, divide the width by the height.
For example:
If the image is 1600 pixels in width and 1200 pixels high.
1600 / 1200 = 1.33 (accepted ratio)
| | |
| --- | --- |
| | Tip: If you are using your phone or a camera, set your aspect ratio to 4:3, or use any online tool to resize your images. |
4.3 Duplicate Images
While multiple photo angles of the same property section are acceptable - it is imperative to not upload duplicates of the same image.
Avoid using Photo Collages and make sure that each image is showing a single element of your listing.
4.4 Image Diversity
Your images should cover the property seeker's expectations when looking at a listing.
Please ensure that you include at least one photo for each room or amenity on the property.
For example, 1 Bedroom apartment must include one photo of the bedroom, another for the bathroom, and a third for the kitchen.
The pictures must include photos of the Bathrooms, Kitchens, Living Areas, and Bedrooms.
5. Price Realism
The Price on your listing must be realistic.
PF Expert compares your price to similar properties in the same area and if your price is significantly higher or lower, the listing's Quality Score will be negatively affected.
6. Location
Property Finder utilizes a 4-level location system, that consists of:
City / Emirate
Community
Sub-Community
Building Name / Project Name / Compound Name
To achieve the highest available score, add the most accurate location available for your listing.
For example: if your property is an apartment in Lincoln Park A, in Arjan, the location you should choose is "Lincoln Park A" and not "Lincoln Park".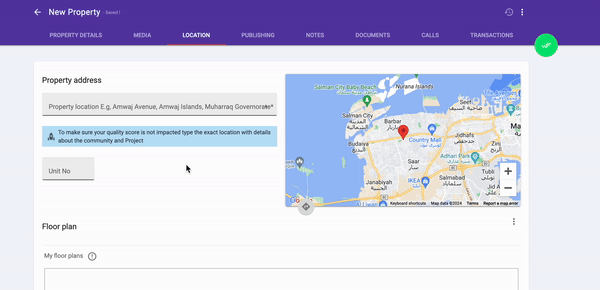 7. Additional Fields
Additional fields refer to the extra fields that can affect your Quality Score.
The additional fields are:
| | |
| --- | --- |
| | Rental Listings: Number of Cheques and Availability Date |
| | Sale Listings: Availability Date |
8. Verification
Depending on your listing's eligibility, you might need to verify your listing to achieve the highest possible Quality Score.
Learn more about Listing Verification here.