Who can use this feature?

Admins, and Agents
In the Call leads section on PF Expert you will be able to track all call leads received by all your Agenta.
You will be able to see all the call recordings, to which agent the call is assigned, the call status, time received, and the caller's contact number.
| | |
| --- | --- |
| | Note: Please ensure that Call Tracking is activated in order for you to track your call leads. |
You can view your Call Leads by visiting PF Expert > Leads > Calls
What is covered?
Call Lead Status
When a property seeker calls your agent's Call Tracking number, a lead is created for you in PF Expert showing the status of the call.
Here are the different statuses that you can see:
Canceled: The property seeker disconnected the call before the agent received the call.
Unanswered: The Agent did not answer the call.
Voicemail: The Agent did not answer the call, and the property seeker left a voicemail.
Answered: The Agent answered the call.
Recording Tracking
If a call was "Answered" or the property seeker left a "Voicemail", you can listen to the recording of the call or the voicemail at any time.
Click on the play button to listen to the recording.
Click on the 3 dots to "Download" the recorded call, or set the "Playback speed".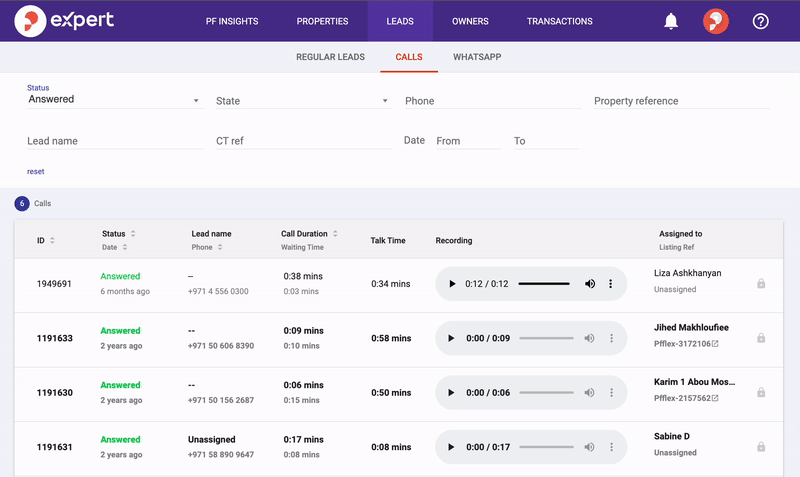 | | |
| --- | --- |
| | Note: If you have admin access you will be able to listen to all calls, if you have agent access you will only see and listen to your own calls |
Filtering Call Leads
You can filter your leads to quickly find them using one of the available filters.
In the below example, we are filtering all "Unanswered" calls between August 2020 and August 2023.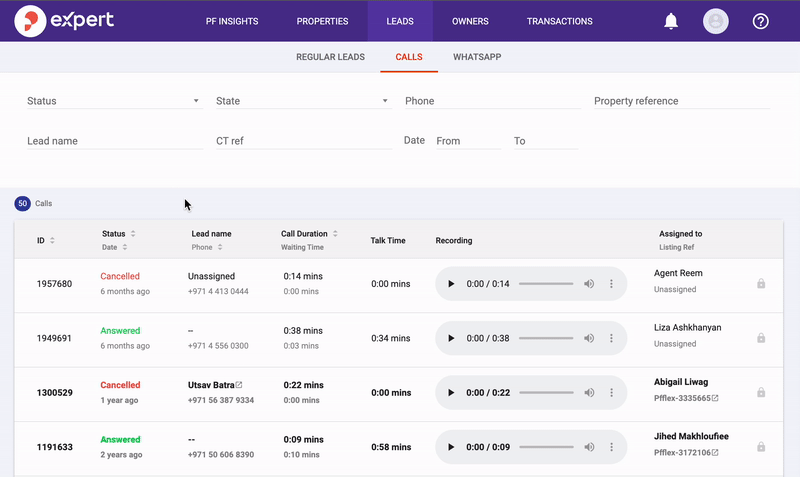 | | |
| --- | --- |
| | Tip: If you wish to remove all filters, click "Reset". |
Frequently Asked Questions
Yes. You can check Leads Insights to view how you are performing in terms of Calls, Emails, and WhatsApp Leads.
You can download the recording for each lead by clicking on the 3 dots, and then clicking Download.
The Call lead is assigned to a Property when PF Expert recognizes that the property seeker initiated the call by clicking the "Call" button on your listing.
If the property seeker calls your Call Tracking number directly, PF Expert will not be able to confirm which listing the caller is inquiring about.
The Call Leads page is only for call-tracking calls.
To log a call that did not come through the Call Tracking services, please add the lead in "Regular Leads" and choose the "Channel" as "Phone Lead".