Who can use this feature?

Admins and Agents
What is Under Offer?
Under Offer is a new feature for agents and admins to notify Property Finder when a property is under negotiation to be sold or rented. This can be done by using the "Claim Transaction" option available on the Property Finder website and PF Expert.
What is covered?
Benefits of the Under Offer Tag
A special tag on the Property Listing Page, and adds a link to your agent profile to view other listings available in your inventory. 
This helps you get noticed for your excellent service and attracts potential sellers looking for agents to move properties, and potential property seekers looking for something similar.
Listings for the same property from other agents are marked as 'under-offer' without a link to the agent profile.
Special Under Offer Tag
Claiming a transaction will feature an exclusive under-offer tag on your listing - informing property seekers of its unavailability and ranking your other available listings higher on search results

Banner on Property Listing Page

Dedicated banner on your Property Listing Page and gives you full credit and redirects users to your agent profile.

Links to Agent Profile

Your complete transaction history is attached to your agent profile attracting potential leads to view other available listings in your inventory

Boost SuperAgent Performance
Get a higher SuperAgent performance rating - driving improved visibility and exposure across all of your listings.
Learn more about Agent Progress

How to mark a listing as Under Offer
There are multiple ways you can claim a transaction and request to mark your listing as Under Offer
From PF Expert
Select the listing you wish to claim and choose "Claim Transaction" from the action menu.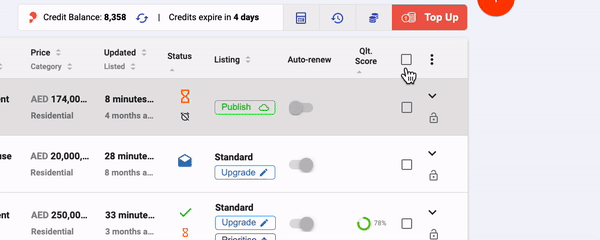 From Property Finder Portal
(propertyfinder.ae)
View the listing you wish to claim, click on the "Report This Listing" option and choose "Claim Transaction" from the "Select a Reason" drop down.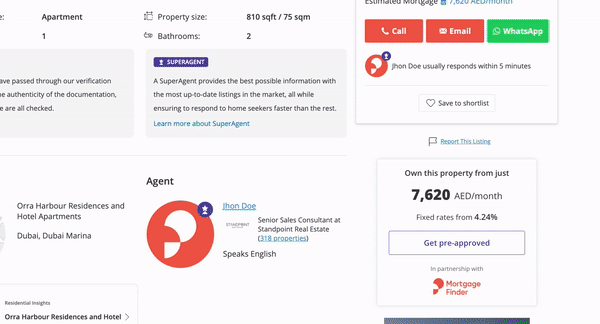 Once your claim is validated by the customer support team - the listing is updated with an "Under Offer" tag, a special tag on the Property Listing Page giving your credit, and a link to your agent profile to view other listings available in your inventory. 
If the property is listed by other agents, it will be marked as "Under Offer" as well.
Documents Required
Any document that validates your claim that the property is under negotiation, unavailable or already rented/sold, along with verifiable ownership documents are accepted for a successful claim.
These can be any one of the following for each: 
Proof of Transaction: MOU, Form F, Ejari, Tenancy Agreement. 
Proof of Ownership: Title Deed, Oqood, SPA, Utility Bill.
Frequently Asked Questions
For more questions and answers, please visit this article.
No. Claiming a transaction only marks a property as Under Offer to inform users that the property may be temporarily/permanently unavailable.
This gives you credit and helps you get noticed for your excellent service as well as improve your agent performance score on Property Finder.
It takes us up to 2 business days to validate and confirm your transaction has been approved.
The "under offer" tag and claimed transaction count in Agent Insights will surface across all portals one business day after the transaction has been approved.
If a claimer highlights to Property Finder which listings are advertising the same property, Property Finder will mark the other listings as Under Offer as well.
However, those agents will not receive the benefits of increased SuperAgent performance and more visibility across their listings, or a tag with a redirect link to their agent profile.
You can view this on your SuperAgent Insights page in PF Expert (coming soon).
If the MOU for any of your claimed listings becomes void - please reach out to the Customer Support team to update its status and request the removal of the Under Offer tag.
Please note a change in status in a previously claimed listing would result in any drawn benefits being reversed.
Consumers can still choose to contact an agent for a listing that is tagged 'under offer'.
The tag Under Offer is only to inform consumers that a listed property may potentially be unavailable.
The listing will stay online with the tag until you decide to take it offline or contact customer support to let us know that the offer fell through.