Who can use this feature?

Admins
What is covered?
What is Community Top Spot (CTS)?
Community Top Spot is a feature where you can place your selected listings at the top of the Search Result page.
A CTS listing guarantees your listing to be seen first in relevant searches in a format that is 3x larger than other listings.
Benefits of Community Top Spot
| | |
| --- | --- |
| | First Position: Your listing will be the first on the Search Result Page |
| | Larger Listing: 3 times larger than other listings with 3 images highlighted instead of 1 |
| | More Leads: Up to 5 times more leads |
| | Name your Price: You get to name what you are willing to invest to win the CTS |
How to win Community Top Spot?
To win Community Top Spot you need to submit the price you are willing to pay for the spot during the booking window.
You can check the Availability page at any time to plan your CTS needs.
Click here to view.
When the booking window is open (you will receive an email notification), "Name your price" button will be active.
Choose the community you are interested in and name your price.
At the end of the booking window, you will be notified via email by your Account manager on any CTS that has been assigned to you.
You will have 72 hours from being notified to complete the payment and confirm your CTS purchase.
| | |
| --- | --- |
| | Note: If you do not complete the payment within 72 hours, the CTS will be lost. |
How to Prioritize listings to your Community Top Spot?
After you win the CTS and the start date is reached, you can "Prioritize" the listing you have in the won community from PF Expert.
Go to PF Expert > Properties.
Find the listing you wish to prioritize and show on the CTS position.
Click Prioritize.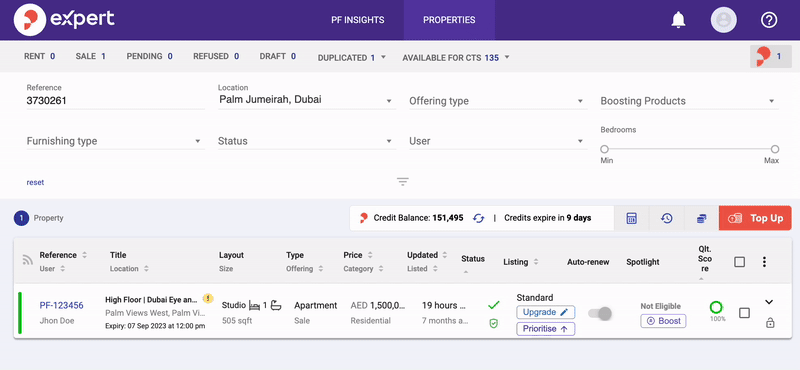 If you wish to de-prioritize a listing, click on the Prioritize button.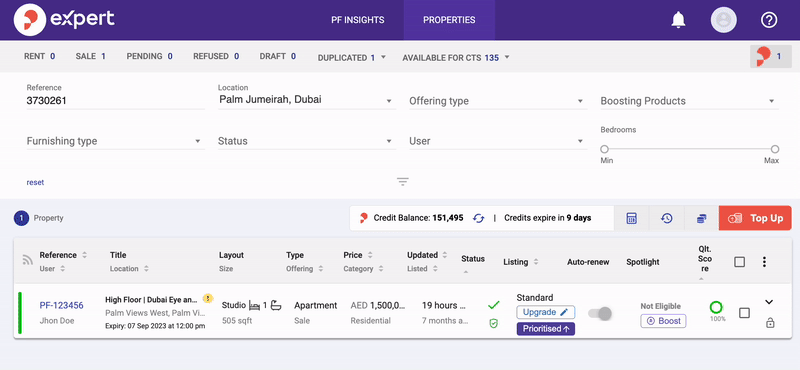 Frequently Asked Questions
The named price that most closely matches the determined value of a CTS is assigned the CTS for purchase.
You can purchase CTS for the upcoming quarter.
The 'Name your price' button is only active during the booking window. If the button does not work for you during this period, please contact PF Support or your Account Manager for assistance.
No. Your first named price submission is your final submission. Revisions are not possible at this stage.
Yes as long as any new form submission does not repeat previously submitted community top spots. Revisions on named prices for CTS are not possible.
No, your submissions are confidential and are not shared with anyone else.
All submissions received after the booking window ends are automatically disqualified.
You can pay via cash or cheque for a CTS that has been assigned to you. Please get in touch with your account manager to do the same.
If payment is not received within 72 hours of a CTS being assigned - the next closest named price to the determined value of a CTS is assigned the CTS.
In the case of a tie, brokerages with the same named price will be requested to re-submit a new named price.
Yes. Any value above the required minimum value of a CTS is accepted as your named price.
CTS value is determined by what someone is willing to pay for it. The highest price someone is willing to pay for a top spot in a community is the determined value of that top spot.
You will be notified via email if you are assigned the CTS you named a price for.